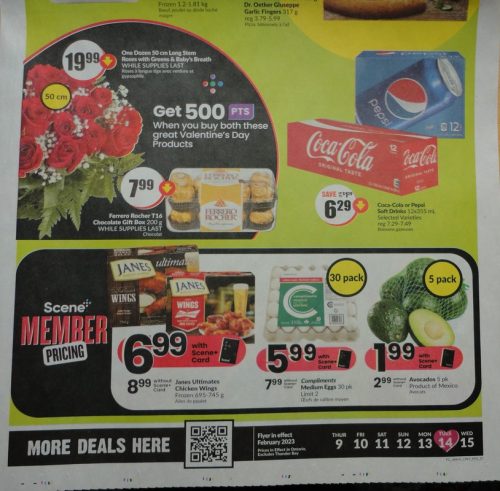 Some flyer sneak peeks for the upcoming week are available on our forum this afternoon! Click the links below to view the No Frills, Metro, and Freshco Ontario flyers for the week of February the 9th to the 15th. Here are some of the sale prices from each of these flyers:
Click here for the Freshco flyer.
Red Seedless Grapes $1.99/lb
Dr. Oetker Casa Di Mama Pizza $3.49
Janes Ultimate Chicken Wings $6.99 Member Price
5pk Avocados $1.99 Member Price
Piller's Meat Sticks $6.99 Member Price
Carver's Choice Bacon or Schneiders Red Hots $2.99
Dempster's Bagels $1.99
Yolpait Tubes or Minigo $2.49 + 100 points when you buy 4
Smartfood or Lay's 2/$5
Pringles or Crispy Minis $1.99
Click here for the Metro flyer.
Extra Lean Ground Beef $3.99/lb
3pk Romaine Hearts $2.99
Gay Lea Butter $4.99
Sabra Guacamole $2.99
Danone Go! 4/$3
15% off $50 Indigo Gift Cards
Click here for the No Frills flyer.
6pk Coke or Pepsi Products $2.99
Armstrong Cheese Bars or Shredded $4.49
Split Chicken Wings $3.99/lb
Medium Ground Beef $2.99/lb
10lb Farmer's Market White or Russet Potatoes $2.49 + 500 PC Optimum Points