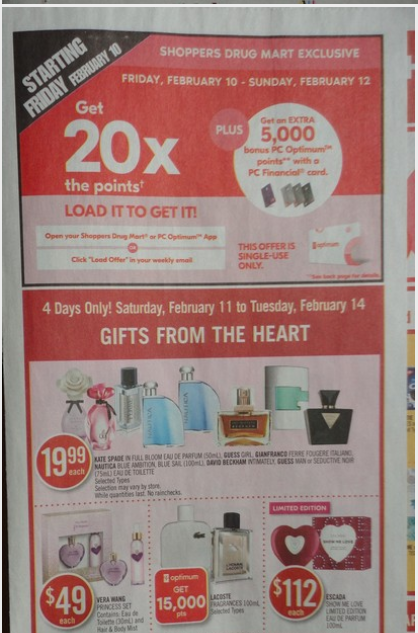 Get 20x the PC Optimum points on your purchase this weekend at Shoppers Drug Mart Canada with a loadable offer that you will find in your app. You will earn an additional 5,000 PC Optimum points when you pay with a PC Financial card, however these points will award later and you won't see them on your receipt.
There is a two-day sale on Saturday and Sunday, and here are some of the items you might want to pick up and include in your shop with your 20x the points offer:
Kraft Peanut Butter $5.99
Christie Cookies or Crackers $2.29
Doritos or Cheetos 2/$6
6pk Coke or Pepsi $3.49
Royale Tiger Towels $5.99
Tide or Downy $5.99
10,000 points for every $50 spent on Boston Pizza gift cards
PC or No Name Cheese Bars or Saputo Mozzarella 2/$10
Dozen Eggs $3.29
Wonder Bread $2.49
No Name Butter $4.69
There is a second gift card offer in this flyer, and this one is offered all week. Get 10,000 PC Optimum points for every $50 spent on Service Inspired Restaurants & Cactus Club Gift Cards. For gift card offer be sure to read the fine print which will let you know when you can expect the points to be awarded to your account. Points from gift card promo typically take a few weeks to award.
Click here to view the upcoming flyer!