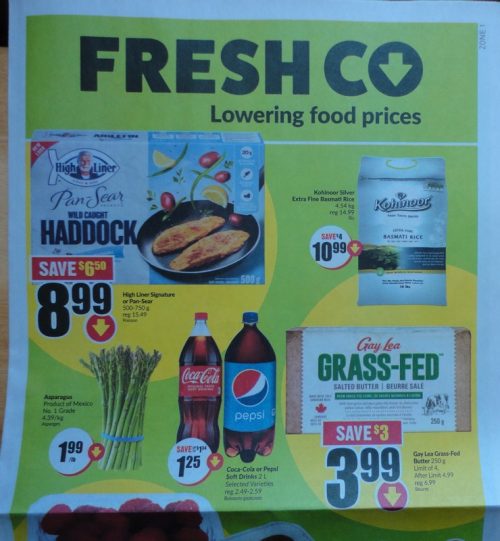 Wondering what will be on sale starting Thursday this week? Click the links below for the Freshco, No Frills, and Meto flyers valid from the 9th to the 15th of March. Here are some of the highlights from each of these flyers.
Click here for the Freshco flyer.
High Liner Signature or Pan Sear $8.99
Gay Lea Grass Fed Butter $3.99
Asparagus $1.99/lb
2L Coke or Pepsi Products $1.25
Raspberries 170g or Kiwis 600g $1.99
Schneiders Bacon, Bologna, Mini Meat Pies or Frozen Sausages $3.99 Member Price
Kraft Dinner 12pk $8.88
The Laughing Cow Cheese of Fontaine Sante Hummus $2.99
Liberte Greek Yogurt or Source Yogurt 16pk$5.49 + 1000 Scene+ Points when you buy 4
Sponge Towels Mega 6=12 Rolls $12.99 Member Price
Click here for the No Frills flyer.
Chicken Thighs $2.99/lb
McCain Superfries or Specialty Potatoes $2.49
Gay Lea Butter or Becel Plant-Based Spread $4.99
Sunlight or Purex 4L $8.99
PC Pasta Sauce $2.75 + 750 PC Optimum Points
Chicken Drumsticks $1.99/lb
2,000 PC Optimum points for every $5 spent on Humpty Dumpty Snacks
Click here for the Metro flyer.
Lean Ground Beef $3.44/lb
Selection Cheese Bars or Shredded $4.44
8ox Mushrooms $1.99
Cashmere, Sponge Towels, or Scotties $6.99
Lactantia Cream $2.99