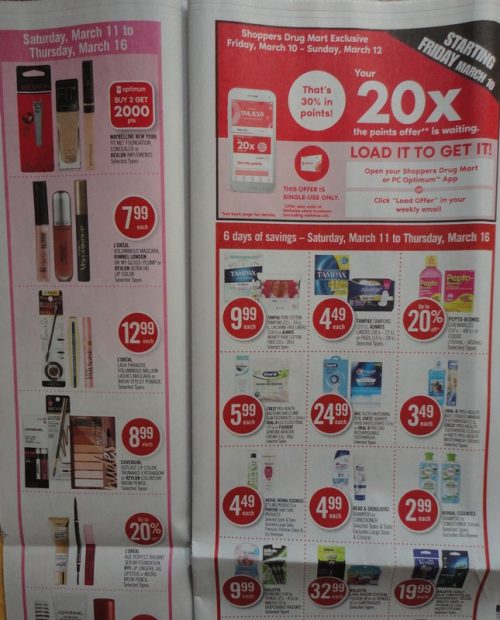 This Friday, March the 10th, until Sunday, March the 12th, get 20x the PC Optimum points at Shoppers Drug Mart Canada. The spend amount required will depend on your personal offer, which usually ranges from $50 t0 $90. Check your app Thursday morning for details of your offer.
There is also a cosmetics offer during the week, and March 15th & 16th you will receive 30,000 PC Optimum points for spending $100 or more on cosmetics and fragrances.
As always there is a two-day day sale this weekend, and here are the items that are a lower price this Saturday and Sunday only:
Kraft Peanut Butter $5.99
Wonder Bread $2.49
Christie Cookies or Crackers 2/$5 + 1000 PC Optimum points when you buy 2
Smart Food or Miss Vickie's 2/$7
Coke or Pepsi 6pk $3.49
Select Cadbury Easter Chocolate 2/$9
Purex or Persil $5.99
No Name or PC Facial Tissue 6pk $4.99
Royale Bathroom Tissue $5.99
Dozen Eggs $2.99
Saputo or PC or No Name Cheese Bars 2/$10
No Name Butter $4.99
Click here to view the flyer on our forum!