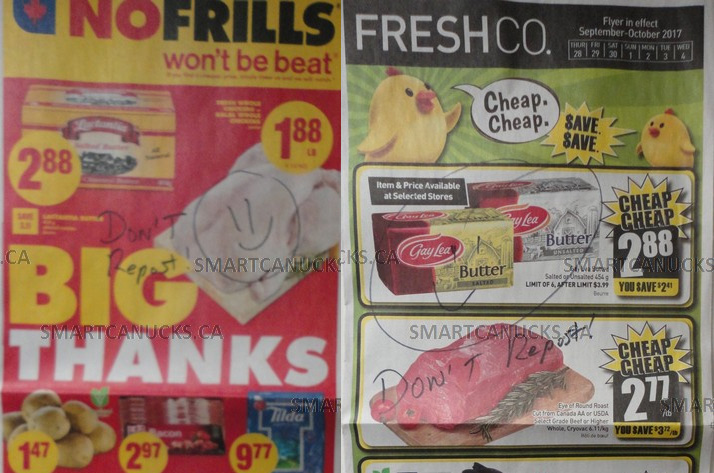 With many of us stocking up for a big Thanksgiving Dinner, the flyers are full of grocery deals this week.  We have sneak peeks of the grocery flyers for Ontario stores starting Thursday 28th September.  So get those shopping lists read for some great deals including $2.88 butter and more!
No Frills Ontario Flyer Sneak Peek
Lactantia butter $2.88
10lb potatoes $1.47
Whole chickens $1.88/lb
Turkeys $0.95/lb
Hamilton Beach Rice Cooker $28.88 (I have seen them cheaper, but if you wanted to use PC Plus points)
Pilsbury Crescent Rolls $0.97
Plus get 4,500 PC Plus points for every $15 spend on Philadephia, Cracker Barrel or Ammooza cheese products.  It is a loadable offer so valid at all PC Plus participating stores.
FreshCo Ontario Flyer Sneak Peek
Gay Lea butter $2.88
10lb potatoes, carrots or onions $1.99
Philadelphia cream cheese or dips 340g (large tubs) $2.99 – great for price-matching at No Frills for the PC Plus deal!
Eye of Round Roast $2.77/lb
Club House gravy and sauces $0.99
Real Canadian Superstore Ontario Flyer Sneak Peek
Spend $225 or more in a single transaction at RCSS and get a free applewood or hickory smoked ham worth $30.
10lbs of potatoes $1.47
Gay Lea sour cream including Gold $1.48
Franco Gravy (tins) $0.68
Classico sauces $2
See all flyer sneak peeks here.  A huge thank you to cyn88canada for these early sneak peeks to help us plan ahead.