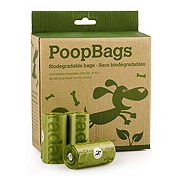 So I hummed and hawed about doing this post, but the dog owners among us will love this freebie.  You can sign up to receive a free sample of biodegradable poop bags for your dog.  Well, I suppose their really for you, but whatever.  Don't have a dog you say?  I use dog poop bags to seal my son's stinky diapers when we're away from home and they work awesome.  So even if you don't have a dog, but have a baby, this free sample is a good one.
Click here to order your freebie poop bags.
Thanks to bucky01 for posting this freebie for us.