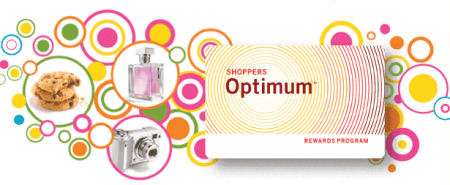 If anyone's been saving up their Optimum points for the next bonus redemption event – it's here! Redeem 30,000 or more Shoppers Optimum points on March 15 and/or 16 and receive a bonus discount (see below). Thanks for informing us of this turkishdelite!
Points Reward Value
3,500 = $5
7,000 = $10
15,000 = $25
30,000 = $75 (Reg. $55)
40,000 = $100 (Reg. $75)
75,000 = $200 (Reg. $150)
SIDE NOTE: For those of you who have a minimum 40,000 optimum points and are looking for some REALLY good deals this would be the time to redeem. You can pick up some GREAT Digital Cameras for $149.99-(40,000 points) $100= $49.99 + tax gets you a camera for $69.49 TAX IN (they charge the tax BEFORE the discount). I am referring to two models, the SONY W55 and the CANON SD1000….both are awesome cameras and apparently people are shopping EARLY trying to find these cameras NOW and returning them next week and re-purchasing.