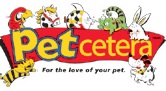 From now until September 13th, 2009, you can enjoy a discount of 15% off of any product, grooming or doggy daycare service at Petcetera. This coupon offer is a one time use only and cannot be combined with any other Petcetera coupon.
Click here to print your coupon now!
Thank you fleetingleaf!