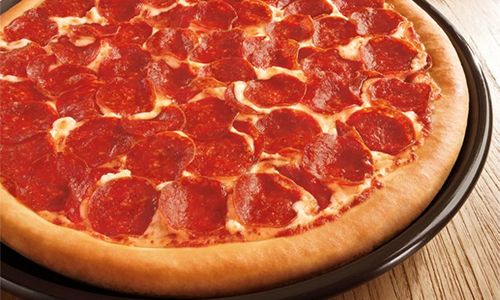 If you're craving pizza, Pizza Hut Canada has a great offer available right now! Head online and order with Pizza Hut and you could purchase large favourites for just $14.99! This offer gets you a large pizza for just $14.99 and is available with some of your favourite toppings including Hawaiian, Canadian or Triple Crown!
If you're craving something else, other offers available at Pizza Hut now include:
$10 Pizza of the Day
$32.99 for 2 medium pizzas, 2 dips, 14 boneless bites and 2L Pepsi
$24.99 for 2 topping 1/2 PANormous, Tuscani pasta, choice of large breadsticks, 8 boneless bites or Hershey's Dunkers
Add boneless bites and 2L Pepsi to any order for $8.99
$14.99 for 2 topping 1/2 PANormous, small breadsticks & your choice of 5 boneless or cinnaparts
$19.99 for 22 boneless bites and large fries
$4.99 for Hershey's Chipits Cookie
These offers are available online for a limited time only. Available offers may vary based on your location. No coupon code is necessary to get these deals. Delivery charges are extra.