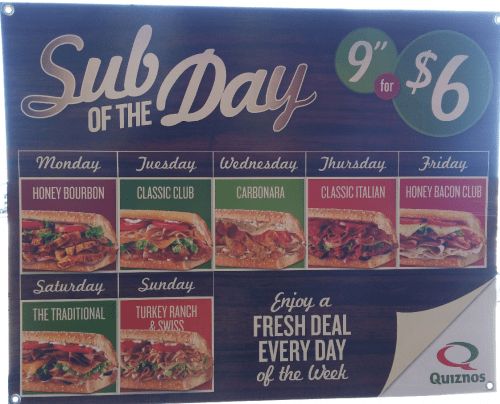 If you're looking for an affordable lunch option, check out this deal from Quiznos Canada! Each day of the week, you can enjoy a delicious 9″ sub for just $6! Quiznos makes some great subs packed full of fresh ingredients that are sure to fill you up! Each day of the week offers a different variety of sub, so you can eat there each day and not get tired of the options!
Subs of the day include:
Monday- Honey Bourbon
Tuesday- Classic Club
Wednesday- Carbonara
Thursday- Classic Italian
Friday- Honey Bacon Club
Saturday- The Traditional
Sunday- Turkey Ranch & Swiss
9″ subs typically sell for around $8 at Quiznos, so this is a good deal. I'm eager to try out the  Carbonara sub which features chicken, bacon, mozzarella, mushrooms, and parmesan alfredo sauce!
These deals are available at select Quiznos locations only for a limited time.
Click here to find a Quiznos Canada location near you.