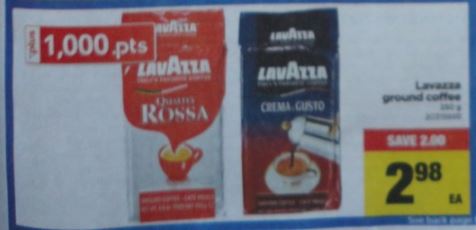 The upcoming Real Canadian Superstore flyer for Ontario stores shows a flyer offer of 1,000 PC Plus points on 250g packages of Lavazza coffee.  These are on sale for $2.98 which is already a great price, but the upcoming No Frills flyer has the same coffee on sale for just $1.97.
1,000 PC Plus points are worth $1 so you will get each pack for just $0.97 after price-match and points.  Real Canadian Superstore did change their price-match policy this year and are limiting price-matches to four at most stores and including a list of stores they will ad-match from so you may want to call ahead and ensure your local RCSS does match No-Frills prices before shopping.  Since it is not a card offer, you can always make multiple visits to earn points on more than four packs of coffee.
Click here to view the two flyers for this offer.