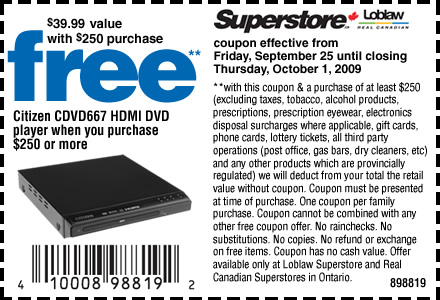 Posted in the latest Real Canadian Superstore flyer there is a coupon to get a FREE Citizen HDMI DVD Player when you spend $250 or more!
You can pick up a flyer in store and use the coupon from there or print the one in this post. Click here to print the coupon!
I love that RCSS keeps giving away bonuses every week! Free gift cards, turkeys and now DVD players. Wow! They must really want you to spend money on their stores hehe.
I wish I had a store closer to me and I would go check out their patio furniture which I heard is on deep discount! Oh well. Next time I'm in the area I'm sure they will have another great promotion on, hehehe.
Click here to view the Ontario flyer!