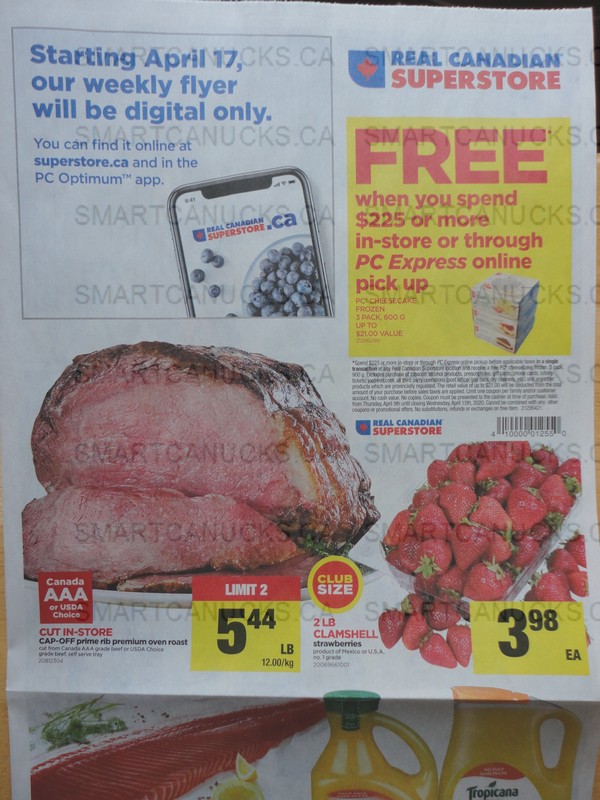 A new Real Canadian Superstore Ontario flyer begins on April the 9th, and here is a sneak peek. Please note that some items may have a limit of two in store, as is mentioned in this flyer. Here are some of the highlights:
Club Pack of 6 Romaine Hearts $4.98
Tropicana Orange Juice Jug $4.48
No Name or PC Cheese Bars $3.98
Cap Off Prime Rib Premium Oven Roast $5.44/lb
Astro Original Yogurt Tubs $2.48
Campbell's Ready To Serve Soup $1.68 + 500 PC Optimum Points
Christie Crackers $2
Ocean Spray Cranberry Juice $3
5000 PC Optimum Points for every $15 spent on Oral-B, Crest, Burt's Bees, or Fixodent Oral Care Products
15% off Easter Decorations or Easter Baskets
Whole Turkeys $2.28/lb
Stove Top Stuffing .88
Franco Gravy .68 + 250 PC Optimum Points
Neilson Cream $1.98
Gay Lea Real Whipped Cream $1.98
Next week there will be paper flyer and only the digital version will be available.
Click here to view the upcoming Real Canadian Superstore Ontario flyer.