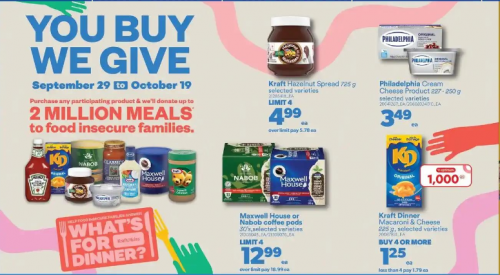 This week Real Canadian Superstore Ontario has a great deal on the single boxes of Kraft dinner. From September the 29th to October the 5th, purchase four or more boxes of Kraft Dinner and pay just $1.25 per box.
There is an in-store PC Optimum points offer for the Kraft Dinner, and for each box that you purchase you will earn 1,000 points. After the $1 value of the points is factored in, your cost per box is just 25 cents each when you purchase four or more boxes. No limit is mentioned in the flyer but there may be limits on how many you can purchase in-store. If you purchase fewer than four boxes the price is $1.79 each.
There are a few other great prices in this flyer so if you are visiting Superstore here are some of the other items you might want to pick up:
Farmer's Market 10lbs White Potatoes $1.99
Gay Lea Real Whipped Cream $2.19
Neilson Cream $2.19 (includes whipping cream)
Stove Top Stuffing 88 cents
Ocean Spray Cranberry Sauce $1.59
Franco Gravy 79 cents
Click here to view these offers in the Real Canadian Superstore Ontario flyer.