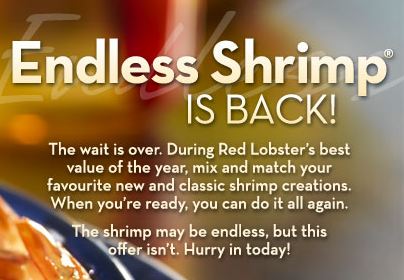 Red Lobster's Endless Shrimp is back again for a limited time. $19.99 will get you a dinner full of "endless shrimp" for you to enjoy. 
You can choose 2 selections from this list:
garlic shrimp
hand breaded shrimp
shrimp alfredo
garlic shrimp
baked garlic shrimp and cheese
This sounds great to me, but I am concerned where the shrimp were fished from.  I most certainly don't want to eat oil spill shrimp, that would be nasty.  Click here for locations and details.
Thanks Mentos for the email