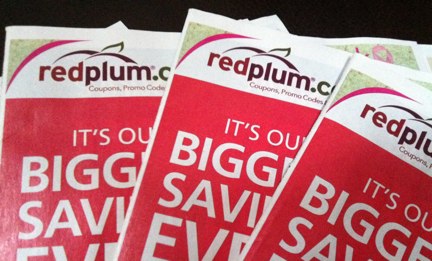 Here is something to look forward to this weekend. The flyer bundle I just came home to at the end of my driveay, just so happens to contain the latest edition of the RedPlum coupon insert. Expect to find it in your flyer bundle or local paper by this weekend. This latest edition contains a fair amount of coupons, including the following:
$1 Off Uncle Ben's Bistro Express Rice
$2 Off Maple Leaf Prime Fully Cooked Chicken or Turkey Strips 150, 300, or 400g
$4 Off Iams Dry Dog Food 4.2kg – 17.5kg
$3 Off Iams Dry Cat Food 1.3kg – 10.7kg
Buy 5 Iams PURFECT DELIGHTS and get one FREE
$1 Off Colgate Enamel Health, Colgate Total Advanced Health, or Colgate Sensitive Pro-Relief Toothpaste
$1 Off Any Colgate 360 Toothbrush
$1 Off Any Colgate Total Mouthwash
$1 Off Sunlight Laundry Liquid (excluding 25 load)
Up To 50% Off Sunlight Dishwasher Detergent ($3 Off) <- An odd coupon?
Nutro Harvest Farms $5 Mail In Rebate
$1 Off International Delight Iced Coffee
Speed Stick GEAR Try Me Free Offer
$5 Off Voltaren Emugel
$2.50 Off Voltaren Emugel
A nice variety of coupons this time! Keep in mind that coupons may vary slightly by region.