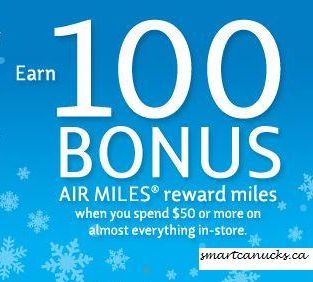 Earn 100 Bonus AIR MILES® reward miles when you spend $50 or more on almost everything in-store!
*Offer valid December 10-12, 2010 with a minimum purchase of $50 or more before taxes and discounts. BASE and Bonus AIR MILES excludes prescriptions, products that contain codeine, lottery, postal services, stamps, transit tickets, Gift Card Express cards and taxes.
This promo is awesome because you'd usually have to spend $10 to get 1 Air Mile at Rexall, so it's like getting 20x the Air Miles. Also, coupons are counted towards the $50 total, so you can easily bring down your out of pocket expense by a lot and still get the 100 bonus Air Miles.
Click here to view the discussion in the forum.
Thanks to $avvy$hopper for posting this in the forum!