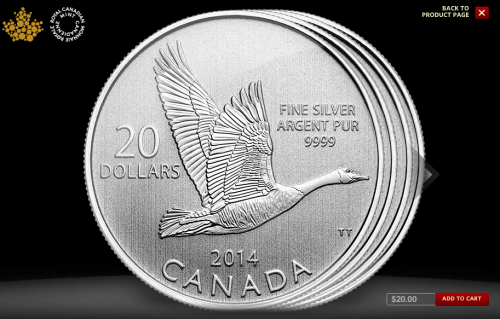 Do you have an avid coin collector in your family? Perhaps want to collect something sentimental this year? This is the deal for you!
Reserve all four of the upcoming 2014 Silver $20 Coin for only $20 from Royal Canadian Mint!
You can subscribe to the entire Four Coin Royal Canadian Mint 2014 Issue of the $20 for $20. You will not regret purchasing these fabulous collectible coins. This is a wonderful start for new coin collectors or first time coin buyers! You really cannot beat $20 cost for a $20 silver coin with a small shipping charge.
I think this would certainly make a wonderful Christmas gift! It is the gift that keeps giving all year round. You will not have to remember to keep your eyes open for the next coin that is released. One simple transaction and your gift receiver will receive four coin gifts throughout the year. Also, if you happen to be starting a coin collection for yourself, it is a fabulous way to ensure you have the complete collection at the end of the year.
Shipping is only $2.99 and saves you from driving everywhere to find these beautiful coins. Your first coin will be shipped out on February 1st, 2014.
Reserve your four upcoming 2014 Silver $20 Coins from Royal Canadian Mint here!