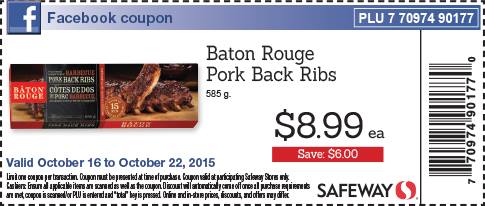 The new Safeway Canada Deal of The Week Facebook coupon is now up. This week only, from October the 16th to the 22nd, get Baton Rouge Pork Back Ribs 585g, for only $8.99 with the coupon. This is a savings of $6 off the regular price, so a fairly good deal this week!
While these ribs don't compare to ribs actually done on the BBQ, they are a pretty good substitute considering the weather may be getting a little chilly for a barbecue. You can print the coupon but if you would prefer not to, you are able to just show it on your phone at the cash and it will be accepted without issue. If you would like to grab a couple of packages of the ribs this week to keep handy in the freezer, just remember that the coupon has a limit of one per transaction, so you may have to make a couple of trips or split up your purchase.
Click here to access the Deal of The Week coupon through the Safeway Canada Facebook page.