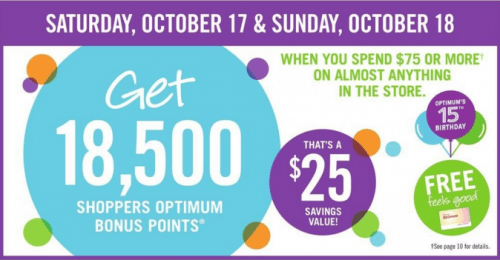 Shoppers Drug Mart Canada has another opportunity for shoppers to gather additional Optimum Bonus Points this weekend towards their next redemption level! Head into your local Shoppers Drug Mart on Saturday October 17  or Sunday October 18 and you could receive 18, 500 Shoppers Optimum Bonus Points when you spend $75 or more on almost anything in store! The amount of points you'll receive with this offer has an equivalent of $25 savings value, which is a great addition to your existing points if you're looking to save even more on your future Shoppers purchases!
This weekend's offer works with your purchase of just about anything in store, so you can combine it with this week's flyer deals to maximize your savings. Offers in this this week's Shoppers Drug Mart flyer include:
$5.99 for select AA and AAA Duracell Batteries (October 18-19 only)
30% off select Garnier or Nivea Skin Care products (October 18-19 only)
$3.99 for Royale Bathroom Tissue 9-12 Rolls (October 18-19 only)
$3.99 each for Kleenex Facial Tissues 6's (October 18-19 only)
$3.99 each for Royale Tiger Towel Paper Towels 2-6 Rolls (October 18-19 only)
$1.49 for Lays Potato Chips 180g (October 18-19 only)
$2.29 for Coca Cola or Pepsi 6x 710mL (October 18-19 only)
$2.99 each + 10x points on Colgate 360 Manual Toothbrush or select Colgate Toothpaste
$4.99 for L'Oreal Hair Expertise Hair Care
$4.99 for select Dove Hair Care products
$10.99 for Pampers Baby Dry Jumbo Diapers
25% off select Revlon cosmetics
15% off Maybelline Brow Palette or Precise Liner
40% off select Jamieson Natural Health Products
25% off select Rimmel Cosmetics
2/$5 Ruffles or Doritos
Flyer deals run from  October 17, 2015 to  October 23, 2015 with the exception of 2 day deals which are on October 18-19, 2015 only. The Optimum bonus offer is valid October 17-18, 2015 only and usually excludes purchases of prescriptions, stamps, transit and other non-pointable items.
Click here to view more deals in this week's Shoppers Drug Mart Canada Flyer.