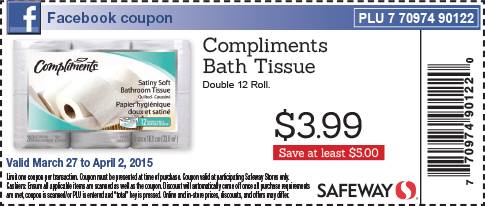 Safeway Canada has a new new Deal Of The Week coupon offer available through their Facebook page, and this time it is for a very essential product that we all need and purchase. This week only, from March the 27th, to April the 2nd, 2015, get Compliments Bath Tissue in the 12 double roll format, for just $3.99 with coupon.
According to the coupon this a savings of at least $5 off the regular price, but personally I would never pay more the $3.99 for toilet paper anyhow, and I am sure most of you agree. I would typically only pay $3.99 and use a coupon on top of that, however, toilet paper coupons appear to be nearly extinct so far this year. If your stockpile is dwindling you may want to pick up a package with this coupon just in case.
You do not have to print this coupon. If you would prefer, you can also just present it on your smartphone to the cashier. There is a limit of one coupon per transaction.
Click here to print your coupon for Compliments Bath Tissue.