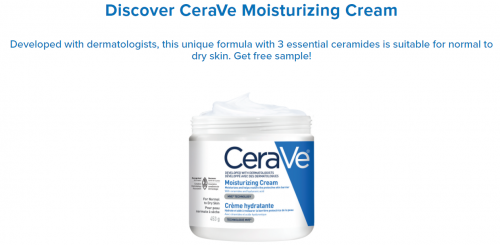 Sampler Canada has a new sampling opportunity available, and you are invited to click the link below to see if you qualify!
This time the offered sample is CeraVe moisturizing cream, and you just might looking for a great moisturizing cream this time of year. Not everyone will qualify for this sample though, and that is the nature of Sampler. If you are not able to get this sample don't let that discourage you from trying again when future samples are available.
If you have never had the chance to try the CeraVe moisturizer make sure you try and get this sample from Sampler because it's really, really good. I actually just invested in the giant tub from Costco because it is that excellent, so hopefully you are able to get this sample and see for yourselves!
Click here to get your free sample of CeraVe moisturizing cream from Sampler.