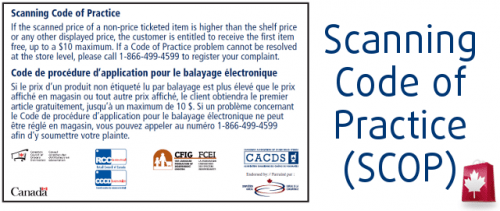 Ever been shopping and the item scans higher than advertised? You could be getting that product free!
The Scanning Code of Practice is a voluntary code (although many stores do participate) through the Competition Bureau and Retail Council of Canada.
If the scanned price of a non-price ticketed item is higher than the shelf price or any other displayed price, the customer is entitled to receive the item free, up to a $10 maximum. When the item has a price tagged, the lowest price applies. When identical items are incorrectly priced, the second one will be sold at the correct price.
The Code covers all scanned merchandise at participating retail outlets where the sign shown above is displayed at the store entrance or checkout. You have probably seen it before and never read it, but it can save you money.
What is a non-price ticketed item?
A non-price ticketed item is any bar coded merchandise that does not have a price affixed to the merchandise.
What happens if two or more identical non-price ticketed items are incorrectly scanned?
Customers are entitled to the first item free (up to a maximum of $10) and the subsequent item(s) at the correct price.  If the items are different flavours/scents(different PLU or UPC numbers) they are classed as different items and you can get them free.
Do you need to do anything to get this discount?
Simply ask, often the cashier will try to just put the item in at the corrected price – politely point out the sign and ask if you should not be getting it free (or $10 off).  They may need to get a manager's approval and will usually send someone to check the price.
What if the item has been put back in the wrong place?
Most companies list the item details on the price tickets, but on occasion there will be a big sign with just a price.  If there are many of that item you can likely argue for it, but if it is a single item with others not like it – probably not.
What if the ticket price shows a date that has expired?
This one is a judgment call, the date shows that the price is no longer valid but they have to show pricing as part of their agreement.  They will usually honour it in this case but you may need to point out that it is their responsibility to take down the old tags and that small print is just a false advertising attempt.
Do all stores take part in this code?
No, it is recommended to stores but not required. Quebec does have price accuracy laws but they are not covered by this voluntary code (although the terms are very similar)
What if they won't give me the discount?
First ask for a manager and explain the situation.  If you are still dissatisfied, register a complaint with the Scanner Price Accuracy Committee, by calling 1-866-499-4599 (toll free).
What is the best item you have ever got with SCOP?
This blog is part of our New to SmartCanucks series, click here to read more blog posts in the series