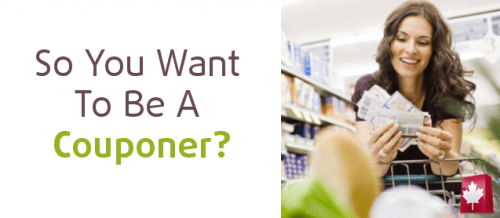 There are so many misconceptions to couponing in Canada, from people thinking you must be poor or on welfare to coupon to people who have watched Extreme Couponing and think it is that easy to get hundreds of items for free at one time.
Canada does not have the same rules as the US, few stores allow store coupons with manufacturers' coupons, double and triple coupons are a special event that may happen a few times a year – if that and most of our grocery stores do not give you coupons on your receipt.
That being said, you can save a lot by couponing if you are willing to give up your brand loyalty and spend the time doing it – and for some, the time just is not worth the savings.
If you are brand new to couponing, my first piece of advice is don't go crazy. It can be so tempting to buy things just because they are cheap. By couponing, you can build a stockpile when items are cheap (or even better, free) but if you won't use them – why buy them?  Don't buy stuff you do not need just because it is cheap with coupons.
My second – no coupon is too small. Ever seen a coupon and thought it is only $0.50 off a $3 item and not bothered picking it up? If you buy that item anyway, why pay $3 when you can pay $2.50. You by one every week, you save $26 over the year – do that on 4 items and you have an extra $100 by the end of the year.
Getting Coupons – you will need coupons to start, you won't start saving until you build a stash of coupons.
Check your stores

– now is the perfect time as many people are finding the newest coupons in stores (don't bother with Loblaws banner stores or Walmart – they rarely carry manufacturers' coupons). The ones I found this week include $2 off any fruit or produce when you buy 2 loaves of Dempster's bread which we buy regularly anyway.
Many traders on SmartCanucks will

trade

'newbie packs' with an assortment of coupons, others will trade based on your wishlist or if you see coupons you are interested in, you can contact that trader to arrange a trade (I will cover trading in-depth later this month)

Online coupons

– check our coupon page to find the coupons you can order. Many come from sites such as save.ca, websaver.ca, smartsource.ca, or gocoupons.ca – you will need to sign up for these sites – one per address (smartsource is a limit per computer). Some will be available to print, others will be mailed to you. Many companies offer occasional coupons on their sites or from their facebook pages.
Check your newspapers – occasionally there are coupon inserts in newspapers, this weekend was one of them!

Contact companies

and ask – tell them you love their products and ask if they have any coupons available. Be polite, many will say no but ones sent directly from the companies are often great coupons that can be used on any product they sell.
Check packaging for coupons, cereal often has coupons in the box and this will be advertised on the box.
What you will need
Scissors: Many mailed coupons and coupon inserts require the coupon to be cut out.
Some type of coupon organizer – many of us started with an envelope, then a little accordion file from Dollarama then moved up to binders or coupon organizers. I will cover organizers in-depth soon too.
Paperclips (great for sorting coupons and holding stacks together – never staple coupons)
The simple stuff (paper, pen, envelopes (great for throwing a few coupons in for a small shop or mailing trades) and a calculator (use it on your phone or computer if you don't have one)
You can get all of these at a dollar store if you don't have them.
Printer – if you don't have one, it can be a bit of an expense but many coupons are now printable and are time limited so you can miss out if you need to wait for someone else to print it for you. It is best to get a colour printer as cashiers may claim they are photocopied if black and white.
A mailing address (easy right) Some coupons will not be mailed to a PO Box though.
While you are building a stash of coupons, start working on a price book. Make a list of all the items you usually buy (including competing brands) with their prices. Many stores put items in their flyers that are not really on sale, they just hope people buy them because they are advertised. Couponing is most effective when you know your pricing.
Once you have some coupons, you are ready to start.
Check store

flyers for prices

that are lower than usual (we do this for you, check our coupons to use with flyers thread in the deals & flyers forum each week).

Make a list

of items you want to buy and clip your coupons to your list (I find it easier to put my list on an envelope for each store with the coupons in the envelope)
Bring your extra coupons with you in case you see clearance deals while shopping.

Sort your items

when checking out to make sure you can give the cashier the coupon for that item – ask them how they prefer the coupons. Watch to make sure all the prices ring up as advertised.
Some tips
Unless it is a really great sale you will make the most of your coupon by buying the smallest size you can. If you only have one of a coupon, it may be worth buying the bigger size (If you need 10 of something, buying a cheap pack of 4 but still needing to buy 6 more may not be economical).
Check what your local

stores' policies

are on printable coupons and coupons over the amount of an item – they may not accept it. Many couponers favour Walmart for their generous coupon policy.
Make sure you

read the terms

of your coupons carefully. Many exclude certain products or sizes or are only available on a certain size.
Some cashiers do not like couponers, you will eventually get to know the coupon friendly ones.
If you have a list of items that are cheap at various stores, you can save time and money by price matching at one store (Walmart, RCSS, FreshCo or No Frills plus some smaller ones).
If you live in Western Canada, certain stores allow the use of more than one coupon per item (

stacking

).
If you are new to couponing, and especially if you want to trade coupons, I recommend signing up to Adopt-A-Newbie (which you can find here). You will be paired with a senior trader who can help you on your couponing journey. When you sign up, let them know if you live in Western Canada so you can be matched with someone who can teach you about stacking.
Over the coming weeks, we will cover some of these points more in-depth but this should give you an idea of whether couponing is for you.
For the couponers reading – what is the one piece of advice you would give someone starting out?  Feel free to sign up as an adopter in our Adopt a Newbie thread too.
This blog is part of our New to SmartCanucks series, click here to read more blog posts in the series