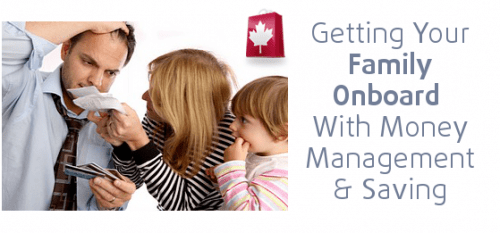 When we tried the cash jar method, it was something that both of us agreed to and were pretty careful about making sure the budget would work, but this was not the case with all of my ideas for saving and paying off our debts.
No money management idea will work if your whole family are not onboard with the idea.  Meal planning gets ruined by a child crying for pizza, your cash jars go out the window when someone comes home with a large purchase not discussed beforehand, someone goes to the bar after work and your entertainment budget for the month and more is gone.  For me, our biggest issue was getting the small spending under control, the coffees and donuts and grabbing a sandwich for $7 in Toronto because you didn't make a lunch.  Once those were under control, we looked for ways to cut our budget further to pay off debts quicker and save more.
That was when I started couponing, and when we had the most issues with family disagreements over budgeting.  Although he seemed to be onboard with the cash jar idea from the start, deep down he felt like a child waiting for Monday for a new allowance when he knew money was sitting in our accounts.  He liked the idea of saving money more than actually doing it.  Couponing just pushed him over the edge.  He thought, like many, that people would think we were poor and look badly on us because of it, he was embarrassed standing in line with a coupon.
So we came to an agreement, our budget was already where we wanted it to be, we were paying down debts, saving and the majority of the time, staying within our jar amounts (with some borrowing from other jars) but he wanted that freedom we had before – so we agreed to a non jar allowance on top of the money we had allotted to 'everything else' as a personal allowance of 20% of whatever we saved or earned extra.   As many on the SmartCanucks' forums know, I have a nail polish addiction – that 'reward' money pays for those 'wants' that I don't need.  So if I want to buy that extra $10 nail polish, I need to find $50 in savings from our budget or earn an extra $50 that month and he gets a matching $10 too.  The other 60% gets divided between savings and debt.  He was soon offering to work on Saturday or asking why don't I have a coupon for an item when it went directly into his pocket.
For others, the hardest is giving up a certain name brand, especially for kids.  One week it is Quaker granola bars because they were on sale, the next it is store brand, one week iogo yogurt, the next Astro.  You have all seen the kid crying in the grocery store because it has to be a certain kind, but giving in will not help you long term.  If your children are old enough, explain that their allowance or hockey equipment comes from the savings. Give them some reward for helping you in your goals.
Meal planning works well, especially if you have a treat day, as they can look at the plan on the fridge and know they can have that pizza tomorrow.  It is not just a no.
A friend pays her daughter $1/week on top of her allowance to help clip and sort her coupons and look through the flyers and match them up with her (and her younger brother's) favourites.  Her daughter is learning from a young age how to budget and about earning money (I think she gets more excited than me about the flyers being early).  She has a folder with their favourite items and how much she will pay for them. Once the proper grocery list is done, they are given $10 to spend on treats from that price sheet.  If they can find them in the flyers, they can have them.  She updates this monthly or so according to coupons she has so they just need to look at the flyer price and she worries about the coupons.  If they don't spend it all, it goes into a 'fun jar' and they use it for movies and towards their next Disney vacation – something they never could have afforded several years ago before saving and couponing.  Then if she does have to take them to the grocery store with her, 'their job' is to find their own items which distracts them from the usual 'mommy I want this' arguments.
Obviously this is not for everyone, but as she mentions, her children were used to the choice and choosing what they wanted at the grocery store – so if you are starting out in the same situation, it may help you ease your children into the couponing/saving lifestyle.
Yes, saving is not meant to be fun, but you will be more likely to stick to it if there is some reward at the end of it all (other than savings and paying off your debts).  It is all about what reward works for you.
What advice do you give to those starting out on getting their families into the SmartCanucks lifestyle?
This blog is part of our New to SmartCanucks series, click here to read more blog posts in the series