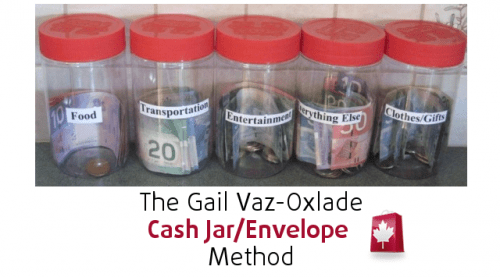 It is as simple as don't spend more than you earn, right? Sure, but you could still be living paycheque to paycheque. When we first tried the Gail Vaz-Oxlade method of budgeting using cash jars/envelopes, we were badly overspending. We were all too fond of putting it on our credit card and worrying about it later. I remember filling out the form on her website and wondering what we were spending another $1000 a month on – now we know exactly where we spend our money so if we do need to cut back, we know where we can cut first.
Expenses: Gail Vaz-Oxlade recommends that of your total income, 35% goes to housing, 15% to transportation, 25% on "life" (everything from groceries, pets, kids etc), 15% to debt and 10% to savings. If you walk most places or have no debt, obviously these will change – but savings in your budget should go to savings, not just be spent because you have it.
Budget what you can afford to spend based on your income (budget worksheet here). You will be amazed how much you need to spend compared to how much you actually do spend. If you have no idea what you spend on "life", spend January following the tips on SmartCanucks and tracking your spending then fill in the budget sheet.
Once you have your numbers, setup your jars or envelopes. You will need
Transportation (above fixed costs)
Groceries/Personal Care
Entertainment
Clothes & Gifts
Everything Else
You will have a monthly allowance that goes into each of those jars, you can add a percentage of the budget weekly, bi-weekly or monthly – however you get paid. Remember that some money in the jar is for costs that month and some are meant to accumulate. Keep the money from each jar in that jar for upcoming expenses. If you run out of grocery money, cut the entertainment or an optional 'everything else' expense for that week and use it for food – but make sure it is coming from optional spending, not accumulated surplus for say a dentist visit or oil change.
Keep a notebook and track all spending, then enter it into your tracking sheets, which are as simple as this: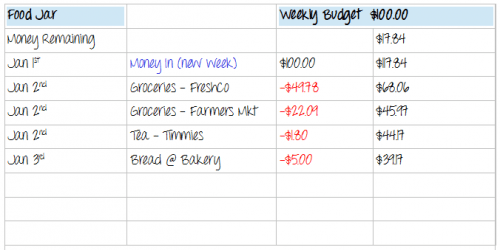 Get a receipt for everything, even that coffee from Tim Hortons to remind you of what you are spending.  I put my receipts in my jars until the end of the week so we both can see where money is being spent, and so we can make sure it gets tracked.
Most importantly, give yourself some non tracking allowance for each week, it doesn't have to be big but the freedom will help you stay on track with the other jars.  If it fits in the other jars, use that money but if you want something frivolous, use the allowance.
You will be amazed how much you save living just on the money in those envelopes, set up a high interest savings account and put a portion of your newly unspent money towards savings, another portion in a curveball/rainy day fund and use the rest to pay down your debts.
If you are reading this because you have debts, start by calling them – ignoring the calls will not help. Tell them that you now have say $100 per month in your budget for them, ask if they can lower your interest rate to help you pay it off. Try going to the bank to consolidate the debts with one payment with a lower interest rate. If that doesn't work – start with the largest interest rate, its costing you more in the long term. Pay the minimum on the others and pay down what is costing you the most.  For some people, this may be a really annoying debt collector, but not your biggest bill – but if it is getting you down and costing you emotionally, pay it first.
Let us know how you are doing using this system
This blog is part of our New to SmartCanucks series, click here to read more blog posts in the series