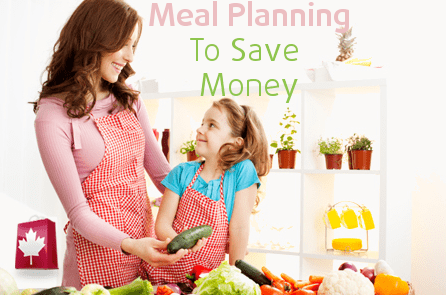 You know how it is, you get home, you are tired and still have housework to do and order a pizza or Chinese or you start making your favourite recipe only to find you are missing a key ingredient. Meal planning can save you both time a money.
Personally, I am not into one day cooking, but it works for lots of SmartCanucks members. We do use leftovers from dinner for lunches the next day to save on cooking a second time or buying additional food.
Meal planning can help you save in several ways
You buy less at expensive prices

You waste less

You eat out / eat convenience foods less (healthier too!)

You spend less time deciding what to cook
How to plan your meals
First, see what food items you have. If you already have chicken in the freezer, why pay more for it this week, wait for it to go on sale. Make a list to see what you have and think about what meals/recipes match them and what other items you will need to make those meals.
Then it is time to get out those flyers. See what is cheap this week. If pork tenderloins or packs of ground chicken are on sale – plan your meals around those and buy extras to freeze for weeks when meat is expensive. SmartCanucks makes this easy with our weekly 'Produce & Grocery Staples Deals' thread)
Make a list of meals with the ingredients beside them. I keep my favourite recipes on index cards and just pull out 6 for the week (we always factor in going out or getting a pizza). If I know it will be a busy week, I include something like frozen pizza depending on what is on sale that week. It is just the two of us, so when I cook, I cook for 6 – we eat that night, have a lunch portion for the fridge and another dinner portion for the freezer. If we eat out one night, we can use those dinner portions for lunches.
Write (or print) your meal plan. How often have you been on your way home and realised that you forgot to take something out of the freezer. Having a copy on your fridge will remind you to get that meal ready.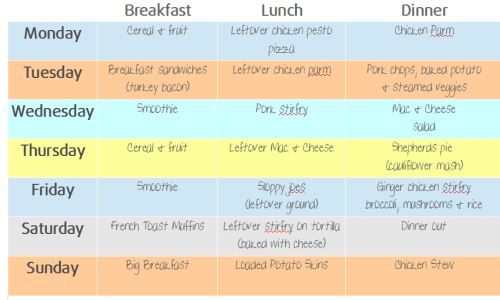 Write out your shopping list. I price match many of my groceries at Walmart, FreshCo or No Frills rather than going store to store. That way I can get the best deals without spending too much time to save the extra money. We will be covering price-matching in a future blog.
Go Shopping. Stick to your list but have another meal in your head in case something is not in stock or if there is a store special for a great deal.
It is a good idea to research budget recipes before planning, some good sites to start with are:
AllRecipes – Simply Recipes – Canadian Living – Eating Well – SkinnyTaste
There are lots of different meal planners online, but feel free to use mine here pdf
This blog is part of our New to SmartCanucks series, click here to read more blog posts in the series