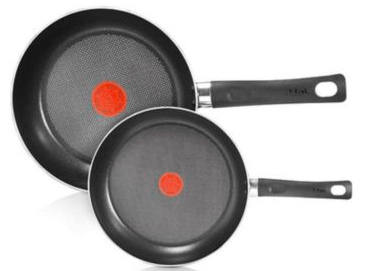 Sears Canada is currently selling this twin-pack of T-Fal Frying pans for $45 off their original price, meaning that you will be saving close to 65% off, as they are now being sold for just $24.99.
The pans will allow for you to cook without adding any extra fat to your cooking, as they are made with a food-safe non-stick coating so that you won't have to use any unnecessary oils while you are cooking. The two pans measure 20cm and 24cm, and both pans include the Thermospot heat indicator, which is where the middle of the pan will turn red when the pan is fully heated through.
If you are interested, you can save $10 off on your purchase at Sears when you spend $50 or more when you enter the promo code, 941612343, at the checkout. If you'd like, you could stock up on this set by purchasing two, perhaps giving one set to a friend or family member, and then finding an inexpensive filler item to bump you over the $50 minimum (as the two together will only come to $49.98). Once you have done this, you can also use the promo code, 941612427, to receive an extra 15% off as today is the last day that Sears will pay the tax for you – which they equate to proving you with 15% off on your purchase.
Sears also offers free-shipping on all orders of $99 or more, or you can have your order shipped for free to the store.