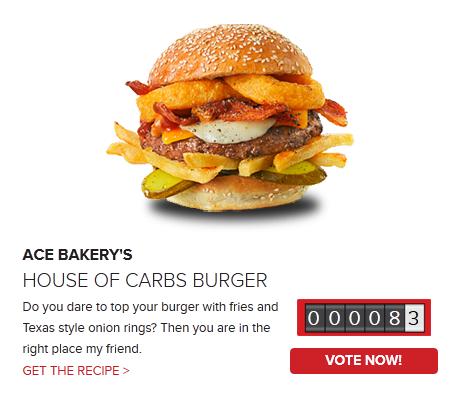 Enter Canada's Ultimate Burger Contest by voting for one of the mouth watering burger options that are featured, and you will be given access to a coupon for $2 off the purchase of Ace Bakery Gourmet Buns. The contest is open until August the 5th, 2015, and there are two major prizes available. Each prize includes a Big Green Egg BBQ with kit – metal damper, thermometer & band, Custom Aluminum Cooking Island 60″ 1.5m w/Caster wheels, Conveggtor for Large Egg (plate setter), Looft Lighter, Premium Organic Charcoal, and Ash Tool. There are also 20,000 of the Ace Bakery Gourmet Buns coupons available to entrants.
There is a limit of one coupon per vote, and if you are new to the contest you will have to first take a moment to register. The coupon is valid until August the 6th, 2015, with a limit of one coupon per package per customer.
Click here to vote and print your coupon!