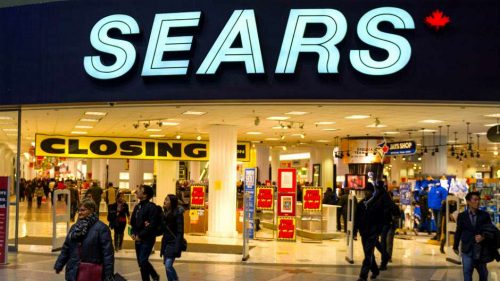 After filing with the Ontario Superior Court, Sears Canada has submitted for approval that they commence with the liquidation process beginning on July 21. This means that the final sale prices being offered during the liquidation process could begin as early as next week, should the request be approved.
Sears announced last month that they would be shuttering 59 of their stores, which included the laying off of 2,900 employees. These 59 stores are spilt between Hometown dealer franchises (14 of the 59) and regularly owned and operated Sears. So for the most part, the liquidation process, once it begins, will be carried out by third-party liquidators.
In total, there is going to be 20 full-line Sears department stores closing down and another 15 Sears Home stores in locations like Scarborough, London, Ancaster, Woodbridge, Windsor, Orillia, Kingston and Sudbury are going to be shut down as well.
As part of the liquidation rules, Sears has stipulated that stores will not be allowed to advertise using the words, "bankruptcy" "liquidation" or "going out of business", but they will be permitted to advertise using signs that say, "everything on sale", "everything must go", or "store closing".
Neon advertising is also not permitted and all signs must be professional looking, which means no handwritten signs are allowed.
There has yet to be any information about the size or kinds of discounts that will be available in the liquidation sale, but we'll be sure to post about this as soon as we receive any information about it.