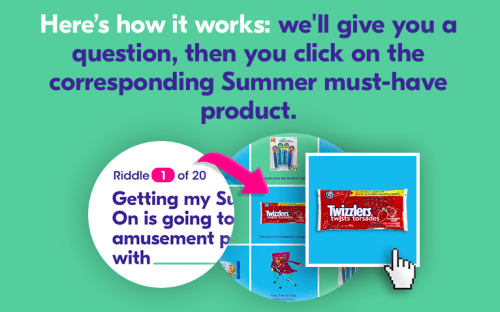 Are you looking for some fun summer games that will have you rolling in the Optimum Points? Shoppers Drug Mart Canada is hosting a contest from now until June 16 where you will have the chance to win 1 of 5 prizes that will see you winning 1 million Optimum points.
Plus, you'll also have the chance to instantly win a gift card valued to be worth $25.
To enter this contest, it's rather simple. First, you will have to enter your login information for your Shoppers Optimum Card.
next, you will be prompted with a question like, "what should I bring to the amusement park?"
you will then have to select the corresponding must-have summer product
next, you lock in your guess and you will be entered to win
There is also a contest for people who do not have an Optimum card. To enter this contest, you must post a photo on Shoppers social media channels (Twitter, Facebook or Instagram) showing your Summer Bucket List moment. The photo must include the hashtag, #SummerOn and you must also tag Shoppers social media accounts: @shoppersdrugmart (Facebook – tag suggestion will appear) @shopprsdrugmart (Twitter), @shoppersdrugmartofficial (Instagram).
Remember your account must be public in order for your entry to qualify. The contest will be open from Saturday, May 20th, 2017 at 9:00:01 a.m. EST to June 17, 2017 at 11:59:59 p.m. EST.
After you have entered the SummerOn contest, you will be eligible to possibly win one of the ten prizes available to be won. Each prize consists of a $100 Shoppers Drug Mart Gift Card.
Click here to enter the Optimum points Summer On contest, or here to learn more about the non-Optimum points Summer On contest.