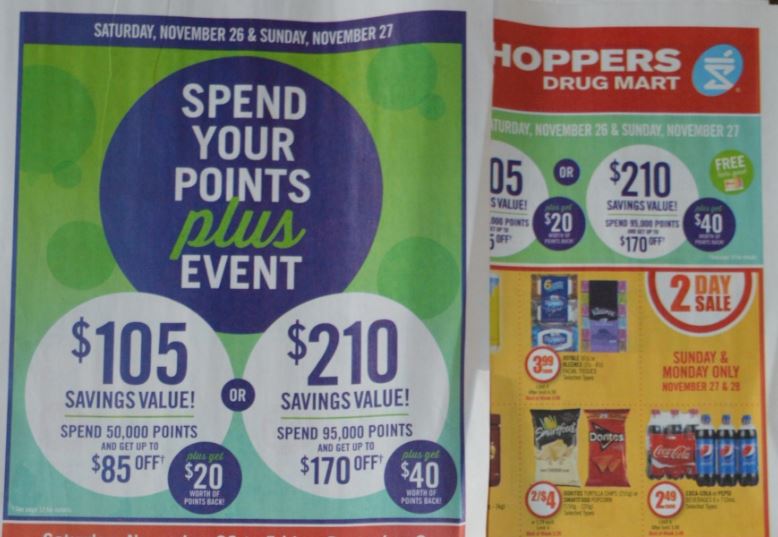 First time redeeming your Shoppers Optimum points or just have questions about the upcoming bonus redemption? The upcoming Shoppers Drug Mart Spend Your Points Plus event is a change-up from their usual bonus redemptions and there are a lot of questions about redeeming.  Here are the answers to the most asked questions and some tips and tricks to redeeming.
What are the levels and amounts for the Spend Your Points Plus Bonus Redemption?
Redeem 95,000 points and get $40 (30,000 Optimum points) back

Redeem 50,000 points and get $20 (16,000 Optimum points) back
The great thing about these promotions is that Shoppers Drug Mart values their points on lower tiers.  So the 30,000 points you get when you redeem $170 are actually worth over $60 if you wait for another bonus redemption or over $50 at the regular highest redemption. However, points will be awarded at a later date.
Do I get a bonus for redeeming 38,000 or less points? No, it is rare they offer any bonus offers for these tiers, but this one is only the top two tiers.
Which is better, this or the regular bonus redemption for $200 for 95k Optimum points? Looking solely at the value, this one is better.  The points awarded back are worth even more if you redeem at a higher level or wait for a bonus redemption.  But, if you want to redeem for a high ticket item like electronics, you are paying more out of pocket now.
Can I do more than one redemption?  What if I buy an item for $380, can I redeem twice on it? You can do two redemptions per day, but only one per transaction.  Since the points are awarded later, they will limit you to two redemptions with points back which is part of the terms they have never enforced before but can with this promotion.
I need the "points back" for my second redemption, when do I get them? Sadly, points are not awarded until December 12th for this promotion so you will need to shop this week for those extra points.
Can I redeem for anything in the store? What about gift cards? Almost everything but definitely not gift cards.  There are some exclusions, mainly for prescriptions along with transit tokens, phone cards, gift cards.  Basically, if you do not earn points on it, you can't redeem for it.
Can I use coupons with my redemption? Yes, lots of SmartCanucks members do.  Under the new system, coupons are considered cash and the system doesn't always offer a redemption after they are input.  So they need to scan all items, subtotal, make sure Optimum card is scanned, choose redemption and then redeem coupons.  It may be a good idea to give them the coupons as they scan the products so they can check their validity against the item though.
I have a 20x coupon, do I still get points on my redemption? Points coupons get a little more confusing at redemption.  You will generally earn points if they are 2000 on a particular item but offers like 20x when you spend $50 or 10x points on a particular item will not be rewarded since your base total will be 0 points.  If you spend more than $50 after redemption, you do earn bonuses on the amount spent out of pocket.
What are the best items to redeem for? It really depends on what you want or need.  Sometimes I redeem for electronics, sometimes makeup and sometimes groceries.  Remember that you worked for those points and may have counted their value against items you bought at a higher price at Shoppers Drug Mart so make it work for you.
Does my redemption cover taxes?  What If I spend $150 instead of $170? You always pay taxes on the full redemption amount out of pocket.  It also does not cover any environmental fees or other levies from the government.  So depending on province and items bought, you could be looking at $15-25 out of pocket.  If you spend less than your points, they are wasted.  They do not cover taxes and they do not prorate your points.
So, now that you can plan your redemption, tell us what you are buying at bonus redemption!