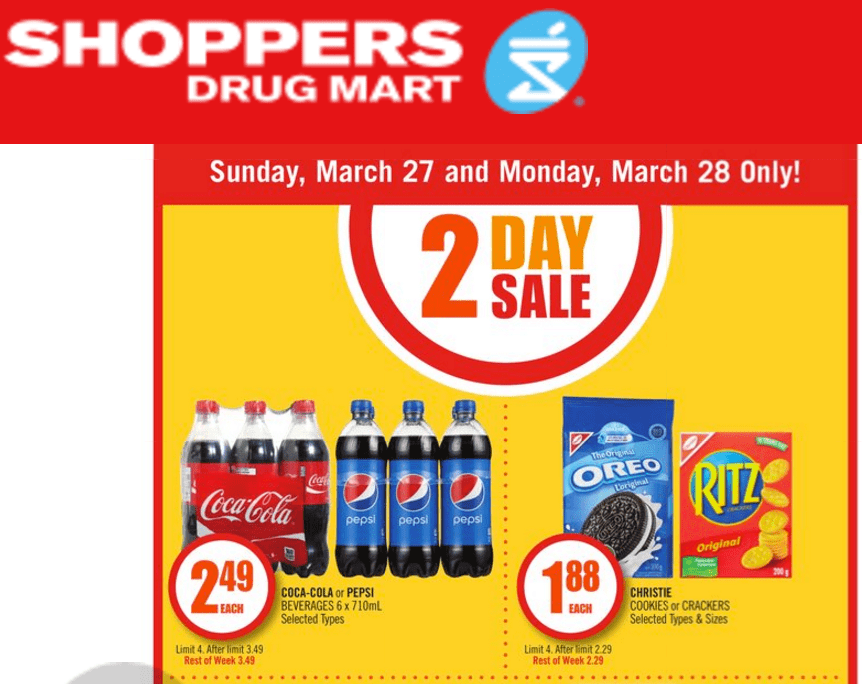 Shoppers Drug Mart Canada has a new 2 Day sale! The Shoppers Drug Mart Canada offers include:
Coca-Cola Or Pepsi Beverages $2.49
Christie Cookies Or Crackers, $1.88
Pc Spring Water (12 X 500ml) Or Soda (2l) 2/ $2.00 Or 1.49
Lay's Chips, $1.88
Kraft Peanut Butter (750g – 1kg) Or Spreads (500g) $3.99
Wonder White Or Whole Wheat Bread, $1.99
Red Rose Tea Bag (48's – 72's), Folgers (200g) Or Maxwell House (150g – 200g) Instant Coffee, $2.99
No Name Evaporated Milk $0.99
Royale(6pk) Or Kleenex (3pk – 6pk) Facial Tissues, $3.99
Quo Cosmetic Brushes, 40% Off
No Name Fabric Softener Sheets (80's), Purex (1.47l) Or No Name (1.89l) Liquid Laundry Detergent, $2.99
Grade "A" Large White Eggs, $2.29
No Name Shredded (340g) Or Block (450g) Cheese, $3.99
The Shoppers Drug Mart Canada offers are available for 2 days only from today, Sunday, March 28, 2016 until Monday, March 28, 2016.
Click here to view Shoppers Drug Mart Canada weekly flyers.