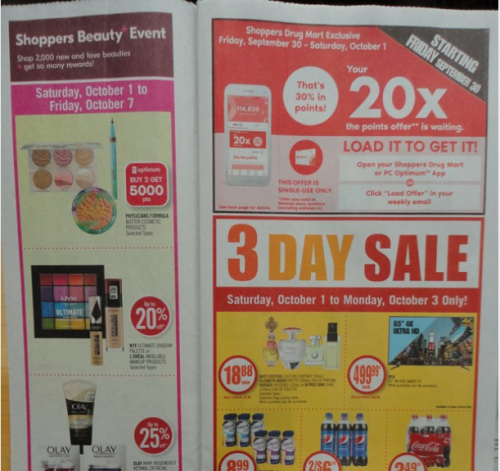 Beginning Friday at Shoppers Drug Mart Canada, there will be a loadable offer of 20x the points that you will find in your PC Optimum app. This offer will be valid for one time use until Sunday, October the 1st. See your app on Thursday for your personal spend amount for the offer.
There is a weekend coming up as usual, however, this one will be for 3 days. Here are some of the prices valid for October the 1st to the 3rd:
Select Fragrances $18.88
Ensure or Glucerna $8.99
Pepsi 6pk 2/$6
Coke 6pk $3.49
Cheetos or Doritos 2/$6
Christie Cookies or Crackers 2/$5
Nestle Favourites 100's $11.99
Wonder Bread $2.49
Bounty Paper Towels $5.49
No Name Butter $4.69
Armstrong Cheese $2.99
Dozen Eggs $3.29
No Name Peanut Butter $2.99
There is another promotion on Sunday, October the 2nd only. Spend $75 or more on almost anything in the store and you will receive a $20 Shoppers Drug Mart savings card.
Click here to view the upcoming flyer.