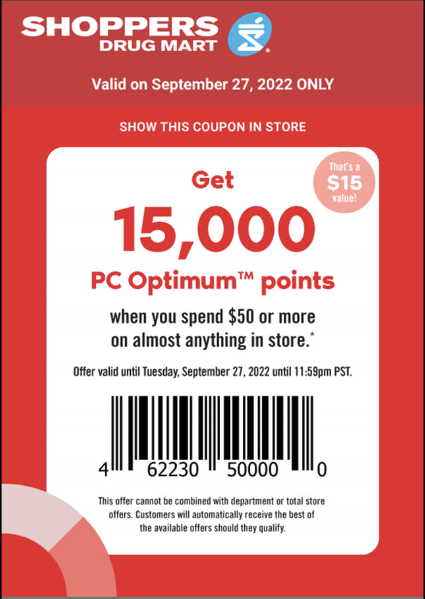 Today only, get 15,000 PC Optimum points when you spend $50 or more at Shoppers Drug Mart Canada with today's Tuesday text offer. Scan the bar code from the image above in addition to your PC Optimum card, and the points will appear on your receipt provided your subtotal before taxes and coupons is $50.
You can use the offer more than once if you wish, and for those who are unsure about the value of this offer it is the same as 20x the points, which is 30% back in points on your purchase. If you might find it difficult to reach $50 worth of items then check your PC Optimum app. There are some people with an offer of 10,000 PC Optimum points for every $30 spent for tomorrow. This is still 30% back in points but it is much easier to spend just $30.
Click here to view the Shoppers Drug Mart Canada flyer for this week.