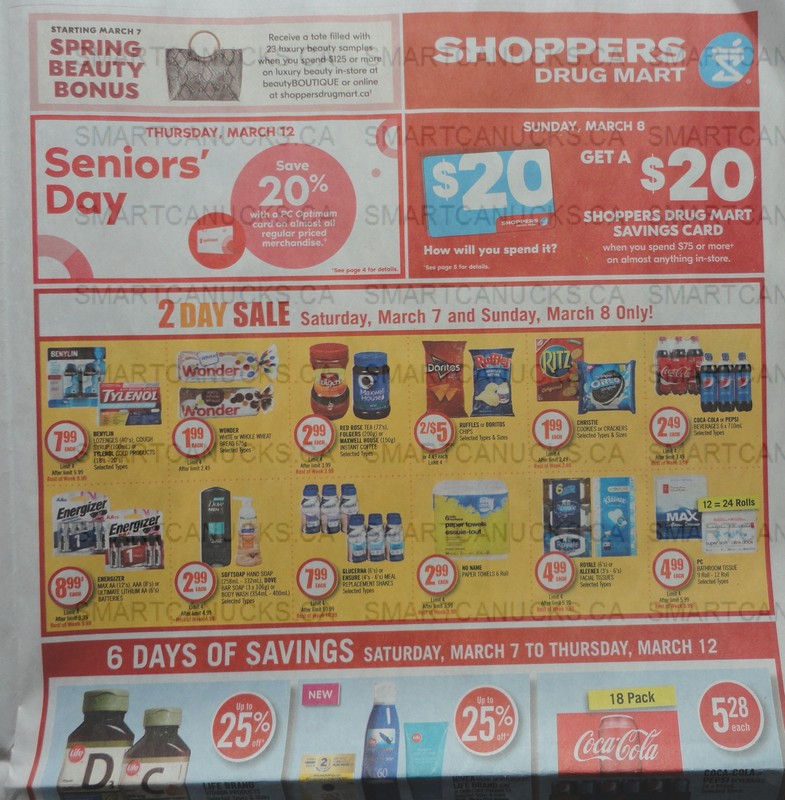 This Saturday, March the 9th, get 20x the PC Optimum points when you spend $50 or more on nearly anything in the store at Shoppers Drug Mart Canada.
There is a two day sale on the Saturday and Sunday, and here are some of the specially priced items:
Wonder Bread $1.99
Doritos or Ruffles 2/$5
Christie Cookie or Crackers $1.99
6pk Coke or Pepsi Products $2.49
Dove Body Wash $2.99
Ensure or Glucerna $7.99
No Name Paper Towel Rolls $2.99
6 Pack Royale Facial Tissue $4.99
Dozen Eggs $1.88
No Name Butter $3.49
There is a second promotion on Sunday, March the 8th, if you would prefer it over the 20x, or would like to shop both. Spend $75 on Sunday, and you will get a $20 Shoppers Drug Mart savings card. If it should happen that you have a personal offer in your PC Optimum account for the Sunday, like for example 20x the points when you spend $50, you will receive both the personal offer and the $20 savings card, so long as you spend $75.
Click here to view the upcoming Shoppers Drug Mart flyer.