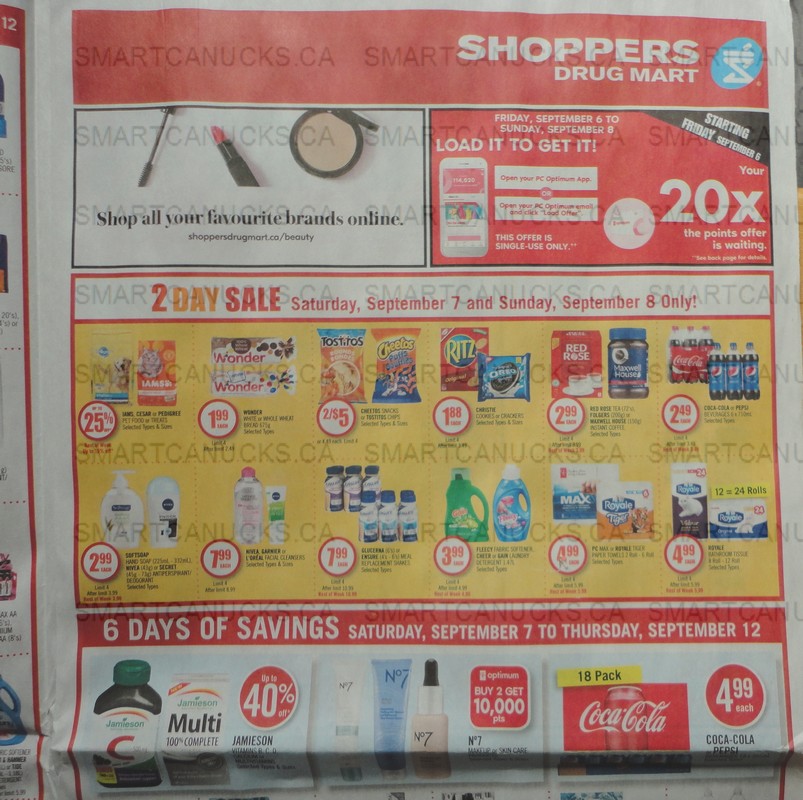 Friday, September the 6th to Sunday, September the 8th, get 20x the PC Optimum points at Shoppers Drug Mart Canada with a loadable offer that you will find in your PC Optimum app. Because this offer will be in your app, it will a one time use offer only.
There is a two day sale on the Saturday and Sunday, and here are some of the items that will have an extra discount on these two days only:
Wonder Bread $1.99
Tostitos or Cheetos 2/$5
Christie Cookies or Crackers $1.88
Red Rose Tea or Maxwell House Coffee $2.99
Coke or Pepsi 6pk $2.49
Nivea Deodorant or Soft Soap Hand Soap $2.99
Gain or Fleecy Products
PC Max Paper Towels or Royale Tiger Towels $4.99
Royale Bathroom Tissue $4.99
Dozen Eggs $1.88
No Name Butter $3.49
There will also be a loadable offer valid all week long, for 5,000 PC Optimum points when you spend $15 or more on Garnier, or L'Oreal Expertise hair care products, but keep in mind that this will not combine with your 20x the points offer.