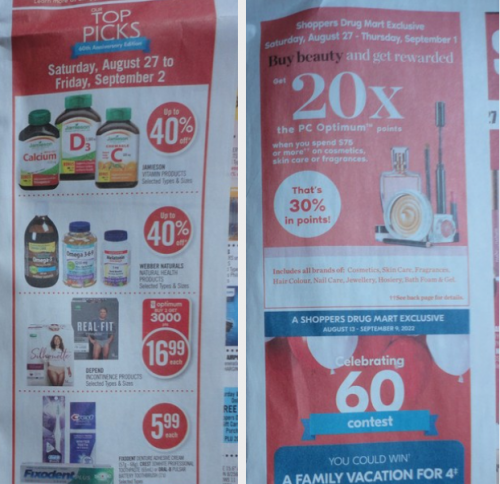 From August the 27th to September the 1st, get 20x the PC Optimum points at Shoppers Drug Mart Canada when you spend $75 or more on cosmetics and fragrances. There is also a Super Sale this weekend, with all kinds of specially priced on on Saturday and Sunday.
As always, there is also a two day sale this weekend, and here are some of the items that are included:
Lady Speedstick or Dove Bar Soap $2.99
Kraft Peanut Butter $4.99
Lay's Potato Chips $2.29
Christie Cookies or Crackers 2/$5
6pk Pepsi Products 2/$6
6pk Coke Products $3.49
Crest or Colgate Toothpaste .88
Royale Tiger Towels $6.99
Royale Bathroom Tissue $5.99
Dozen Eggs $3.19
No Name Butter $4.29
Neilson Chocolate Milk $1.49
Wonder Bread $2.49
Lipton Cup-A-Soup or Knorr Sidekicks 2/$3
Schneiders Red Hots $3.99
There is also an advertised gift card offer in this flyer. From August the 27th to September the 2nd, get 5,000 PC Optimum Points when you spend $50 on Foot Locker gift cards.
Click here to view the flyer on our forum.