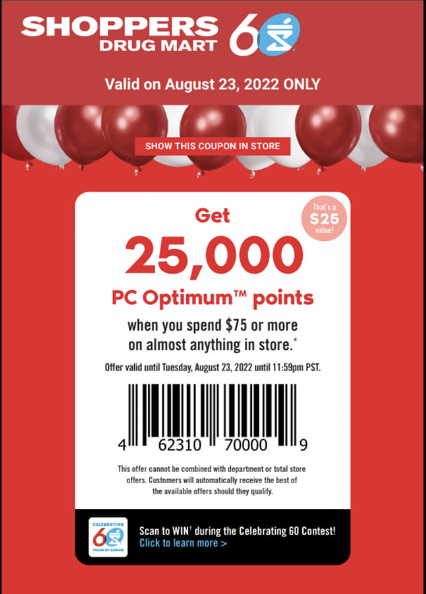 Today only at Shoppers Drug Mart Canada, get 25,000 PC Optimum points when you spend $75 or more on nearly anything in the store with this Tuesday text offer. These type of offers are sent out every Tuesday morning to PC Optimum members who are subscribed to receive texts. Anyone can use the offer though, and you just need to scan the bar code from the image above.
You can use coupons and pay less than the required $75 and you will still receive the 25,000 points. Just make sure that you can see on the screen that your subtotal before taxes is $75. Discounts from things like manager's stickers will reduce your subtotal because they change the price of the item. For example, a $2 manager's sticker will reduce the price of a $5 item to $3, and if your subtotal was $75 it would then be $73.
Click here to view the flyer for this week.