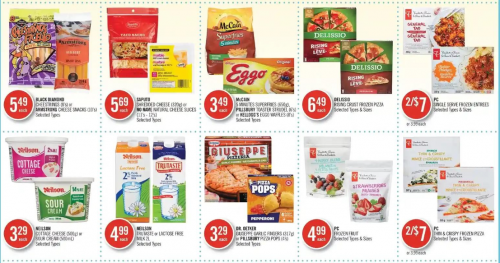 Here's a quick shop that you can do today at Shoppers Drug Mart Canada to get a great deal on Delissio frozen pizza and Kashi cereal!
Until the end of today, Shoppers Drug Mart Canada has a surprise points offer of either 20,000 or 30,000 PC Optimum points when you spend $60. Delissio Rising Crust pizzas are advertised for $6.49 this week, and Kashi cereal is advertised for $4.99. If you grab 7 of the Delissio pizza, and 3 of the Kashi cereal, your total is $60.40 and you are just over that $60.
There are two Points Days offers here that you will also earn points for. One is 6,000 points for every $15 spent on Nestle products including Delissio pizza, and the other is 5,000 points for every $12 spent on Kellogg's cereal. You will be earning 18,000 points for the pizzas, and 5,000 points for the cereal. Assuming you get the 20,000 surprise points, you will be earning 43,000 PC Optimum points for spending $60.40! If you are comfortable using coupons at Shoppers Drug Mart, you can visit the Kellogg's Shop & Save portal to print coupons for $2 off the Kashi and pay even less. You may also be able to claim cash back on the Kashi from various place. WebSaver cash back does not seem to be working at the moment however.
The surprise points offer ends today at Shoppers Drug Mart Canada, but the Points Days offers are valid until Wednesday. You could do this offer later in the week if you happen get to another personal spend offer.
Click here to view this offer in the Shoppers Drug Mart flyer.