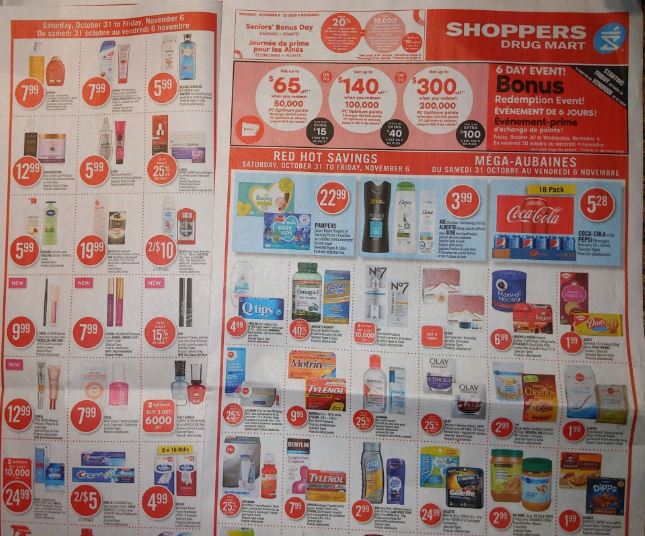 In the upcoming Shoppers Drug Mart Canada flyer, valid October the 31st to November the 6th, there is another six day bonus redemption. Use the points you've accumulated on these six days at in increased value when you redeem them at the following levels:
Get up to $65 off when you redeem 50,000 points
Get up to $140 off when you redeem 100,000 points
Get up to $300 off when you redeem 200,000 points
There will also be a load it to get it 20x the points PC Optimum offer that you will find in your app, valid this weekend.
There is a two day sale on Saturday and Sunday, and here are some of the included items:
Ferrero Rocher $5.99
Quality Street $12.99
Coke or Pepsi 6pk $2.45
Christie Cookies or Crackers $1.99
Downy or Purex $2.99
Royale Tiger Towels $4.99
Dove or Irish Spring Body Wash $2.99
Colgate Toothpaste .88
Dozen Eggs $2.29
No Name Butter $3.49
Wonder Bread $1.99
Armstrong Cheese Bars 2/$5
Janes Pub Style Chicken $5.99
Assorted Halloween Chocolate 90-100 Count $9.99
Click here to view the flyer on our forum.