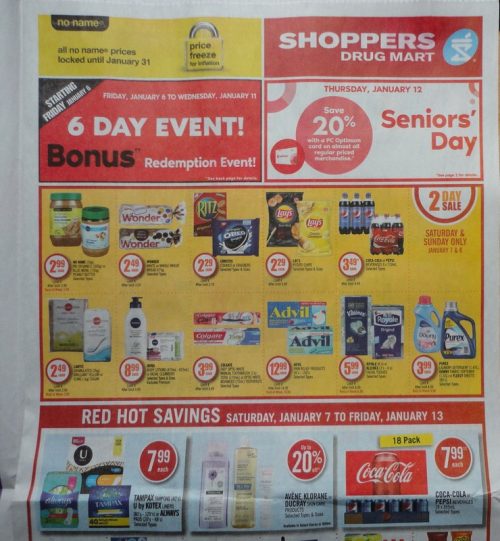 There is a 6 day bonus redemption coming up at Shoppers Drug Mart Canada. From January the 6th to the 11th, get $65 off when you redeem 50,000 points, $140 off when you redeem 100,000 points, and $300 off when you redeem 200,000 points.
There will also be an offer for 20,000 PC Optimum points in your account, and this offer will be valid from Friday to Sunday. You can check the details of your offer on Thursday when your new offers arrive
There is also a two day sale this week, and here's what's included:
No Name Peanut Butter $2.99
Wonder Bread $2.49
Christie Cookies or Crackers $2.29
Lay's Potato Chips $2.29
6pk Coke or Pepsi $3.49
Lantic Sugar $2.49
Downy or Purex $3.99
No Name Butter $4.69
Dozen Eggs $3.29
No Name Bacon $3.99
Neilson Chocolate Milk 2/$3
Ben & Jerry's 2/$10
Schneider's Lunchmates 2/$5
There is a gift card offer this week as well. Get 10,000 PC Optimum points for every $100 spent on Indigo gift cards.
Click here to view the upcoming Shoppers Drug Mart flyer.