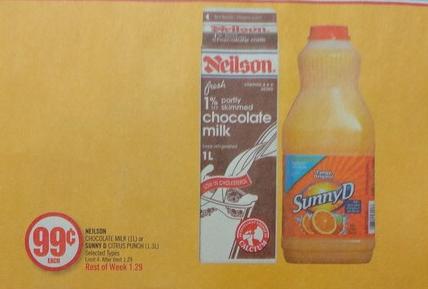 Here is a great deal on Sunny D at Shoppers Drug Mart Canada on July the 18th. The Sunny D 1.3L bottle, is on sale for 99 cents, for just one day only, as part of the one day sale this week. There is a tear pad coupon out there for $2 off when you purchase three products from participating brands such as Armstrong, Neilson, and yes, Sunny D. Purchase three of the Sunny D at 99 cents each and use your tear pad coupon if you have it, and pay just 32 cents a bottle!
What's even better is that Saturday is also a 20x the points day, so this is certainly an item that you can add to your shop to make sure you reach the minimum required spend of $50. There is a a limit of four of the Sunny at the 99 cent price. If you purchase any more than four, the fifth one and beyond will be priced at $1.29, which if you wanted to stock up and get 20x the points, is still not a bad price.
Click here to view the Shoppers Drug Mart Ontario flyer beginning July the 18th.