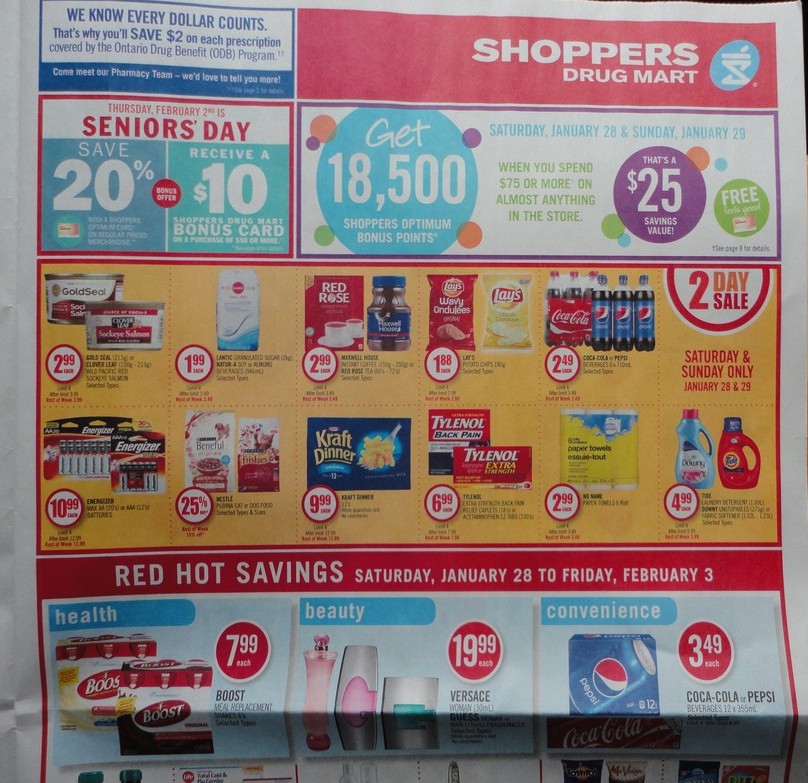 Here is your early look at the Shopper Drug Mart Canada flyer for next week, valid from the 28th of January until February the 3rd.  The Optimum promo for this upcoming weekend is my personal favourite, which is 18,500 bonus points when you spend $75 or more on nearly anything in the store.
There is also a two day sale valid both the Saturday and Sunday, and here of some of the items you may want to add to your shopping list on either or both of the two days:
Lantic Sugar $1.99
Maxwell House Instant Coffee $2.99
Lay's Potato Chips $1.88
6pk Coke or Pepsi Products $2.49
Kraft Dinner 12pk $9.99
Select Tylenol Products $6.99
No Name Paper Towels 6's $2.99
Tide or Downy $4.99
You can also get an extra 10x the points on the Pixi brand of cosmetics, which is new to Shoppers Drug Mart, and also Quo and Joe Fresh select brushes and implements. If you need diapers it's Pampers that are in the flyer this week, with the super boxed diapers and training pants on sale for $22.99.
Click here to view the Shoppers Drug Mart flyer valid January 28th to February 3rd.