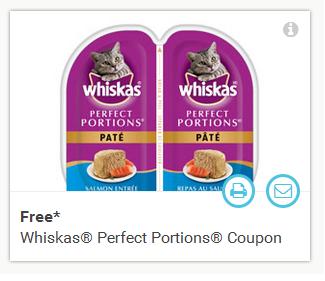 If you previously ordered the coupon for a free Whiskas Perfect Portions, available through Save.ca, you may now reorder the coupon! To get your coupon, click the link below and sign in. You can choose between printing the coupon, or you can opt to have it mailed to your home.
If you choose to have it mailed it will likely take upwards of one week. Also keep in mind that if you prefer to choose the mail to home option, you will have to choose three coupons in total to process your order, so hopefully you do have three available.
There is a rebate available this week through one of your apps when you purchase two Whiskas Perfect Portions, you if you are able to print the coupon and use it in the next coupon of days this is a great time to use it.
Click here to order your coupon for free Whiskas Perfect Portions.