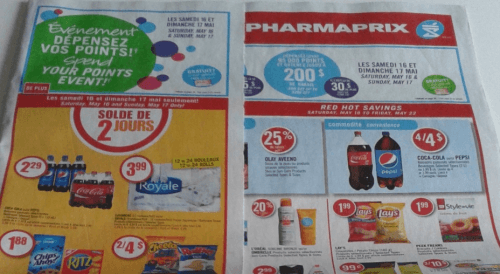 If you have been saving up those Shoppers Drug Mart Optimum points, you have an opportunity to redeem them for even more this week with a bonus redemption offer!
Redeem 50,000 Optimum points for $100 (regularly $85)
Redeem 95,000 Optimum points for $200 (regularly $170)
Surprisingly for a redemption weekend, there are some good deals to pick up.  If you are not redeeming but get a personalized offer for 20x there are some great Optimum offers to help you maximize your points earned too:
Royale toilet paper $3.99 (two day sale)
Always or Tampax 10x points
Playtex tampons 20x points
Schick Hydro, Quattro or Intuition 20x points
Gosh Cosmetics 20x points
Nabob ground coffee bags $5.99
Snack Packs 12s or Kashi Granola Bars 2/$6
Pepperidge cookies $2.79 (use $1 smartsource coupon)
McCain or Dr. Oetker pizzas $3.99
Click here to see Tioma's sneak peek of the Pharmaprix flyer for this bonus redemption event.  The Shoppers Drug Mart flyers are usually similar with major differences being in toilet paper, milk and bread prices and brands.