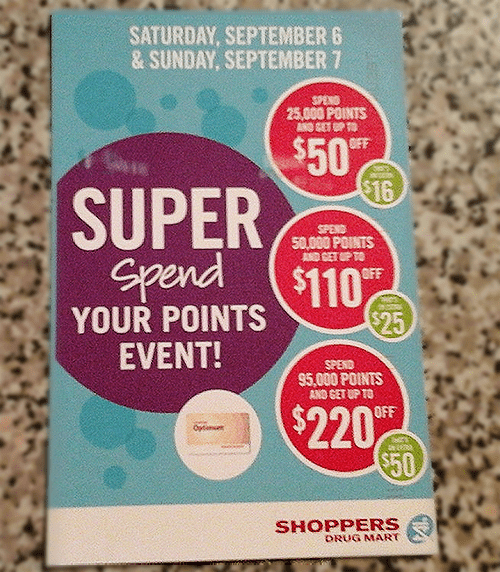 It is that time of year again!  Redeem your points for even more at Shoppers Drug Mart next weekend.    Shop on Saturday 6 September or Sunday 7 September and redeem your points at Super Bonus Redemption:
Redeem 25,000 Optimum points and get $50 (regularly 22k for $30 or 28k for $60)
Redeem 50,000 Optimum points and get $11o (regularly $85)
Redeem 95,000 Optimum points and get $220 (regularly $170)
This is a great time to redeem with your points worth so much more, especially at the higher redemption tiers.
Thanks to  hollyquaiscer for the photo of the card she received in the mail confirming this redemption event.
We now have a sneak peek of the flyer for Quebec's Pharmaprix stores.  The flyers are usually quite similar (milk, bread and toilet paper are usually the biggest differences) so you can start your list and tweak it when local flyers are available.  Click here to view the flyer sneak peek.