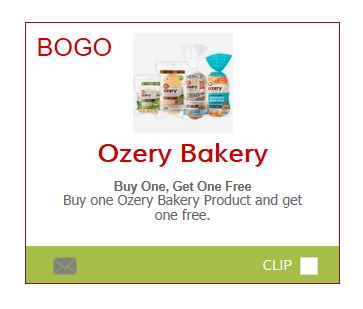 Our SmartCanucks SmartSource printable coupon portal has a newly added coupon that you can print. Click the link below for a buy one get one free coupon valid on Ozery Bakery products.
To find the coupon on our portal, you can select Ozery Bakery from the list of brands. You are able to print this coupon twice from each browser.
I don't see any advertised prices on Ozery products in any of the current flyers, but these products are widely available at stores like Metro, Sobeys, Loblaws, No Frills, Longo's, and more, so you should have no trouble finding them.
If you aren't familiar with Ozery products, they have a wide range of products, free of artificial flavours and colours, preservatives, additives and GMO, and are certified as Kosher. Products include Snacking Rounds, OneBun, Brioche, Frena Buns, Breakfast Buns, Mini Pitas, Morning Rounds, and Lavash Crackers.
Click here to get your buy one get one free coupon.