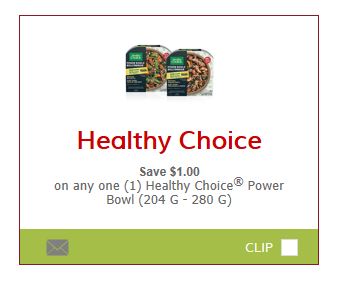 There is another new SmartSource printable coupon available, however this one is a new addition to our SmartCanucks SmartSource printable coupon portal.
Head over to the portal by clicking the link below for this new coupon for $1 off the purchase of any Healthy Choice Power Bowl 204g-280g. This coupon and any other coupon you may might find here can be printed twice using your current browser. Additional prints require that you visit the link in a different browser.
The lowest price for the Healthy Choice Power Bowls this week is at Freshco Ontario for $3.88. Use the coupon and pay just $2.88 each. If you check your cashback apps you might also find an offer for $1 back. To easily locate the coupon through the link below you can search the brand name "Healthy Choice."
Click here to get your coupon for $1 off the purchase of Healthy Choice Power Bowls.