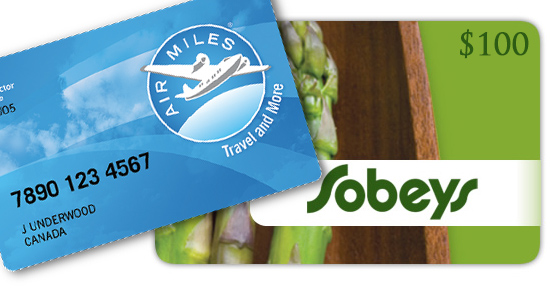 If you are planning to shop at Sobeys or Freshco in the coming weeks, you earn bonus Air Miles if you pick up their gift cards at Sobeys this week.  Earn 45 Air Miles when you buy $100 in gift cards or 100 Air Miles when you buy $200 in gift cards.  While the return is fairly low, around $10 on $200 in gift cards, it does bring down the cost of your groceries and every penny helps!  Plus you can use them on future flyers with other Air Miles deals.
While Sobeys can be expensive, the gift cards can be used at FreshCo and other stores under the Sobeys banner including Foodland, Price Chopper and IGA or Thrifty Foods if you want to send it to someone in another province.  If you have children away at college, they have Share & Care cards that you can top up using one card while they can use the other one to shop too.
This offer is valid at both Sobeys Ontario locations and Sobeys Urban Fresh stores.  You can view flyers for these stores here for full details.